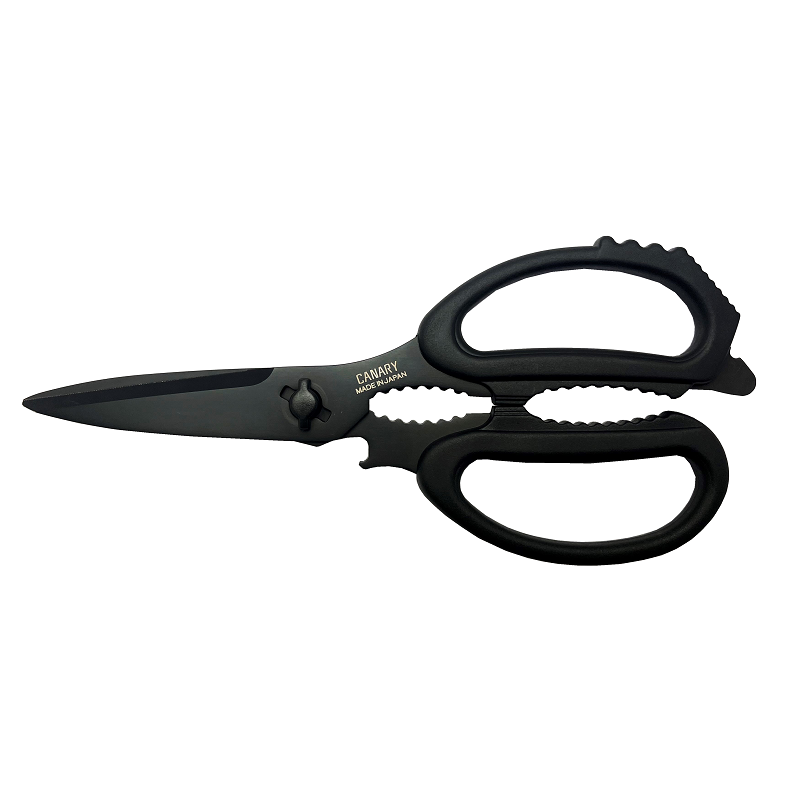 [SUPER STRONG HEAVY DUTY HAND SHARES]
These are Japanese razor sharp kitchen scissors in SEKI city that pursue "cutting all ingredients in one cut."
Unlike ordinary straight-edged blade scissors, it has a special micro-serrated blade edge that cuts any food without slipping.
You can cut well not only for hard food but also for soft and slippery ingredients.
Ideal tool for cutting meat, bone, chicken wing, turkey, poultry, fishes, shrimp, lobster, crab, seaweed, vegetable, potato, etc.
[MULTIPURPOSE JAPANESE KITCHEN SCISSORS]
The handle is equipped with can opener, bottle opener, lid opener, nuts cracker, meat tenderizer.
All functions you need in the kitchen are integrated into a pair of scissors by gathering the voices of many cookers.
This heavy duty kitchen scissors can make cooking work more efficient and fun.
[Electroplated ceramic coating]
Electroplated ceramic coating is applied to the blade.
The base material, stainless steel blade steel, is a material with high rust-preventive power, but the coating effect further increases its rust-preventive power.
The coating color is matte black.
The black coating from the handle to the tip of the blade is highly decorative.
The black color absorbs light and prevents diffuse reflection.
[EASY CLEAN REMOVABLE BLADE]
The two blades are detachable and washable easily, keeping the scissors clean at all times.
Heat-resistant temperature is 266℉ (130℃). Of course, dishwasher safe.
[JAPANESE QUALITY]
Made in Japan.
The blades are made of only Japanese high-grade anti-rust stainless steel.
All items are hand made by professional Japanese craftsmen.
These cooking shears are the choice of professional chefs as well as home cooks.
They also make great gift ideas.
品番
EL-210-BK-1
商品名
CANARY Kitchen Scissors EL BLACK
商品価格(税別)
6,000円
JANコード
4962069075374
サイズ
Body size (length x width x height): 210mm x 93mm x 12mm
Package size (width x depth x height): 120mm x 230mm x 13.5mm
Blade length: 65mm
Weight: 101.2g
材質
Blade: Stainless cutlery steel
Body: Elastomer resin
   Electroplated ceramic coating
研ぎ直し